Top Freelancing Sites in India 2020
With over 80+ freelancing websites it is very confusing to find the genuine and top freelancing sites in India.
Freelancing is the best source of income if you want to work in your field of passion. Nowadays, peoples are searching for various ways to earn money online so that they can leave their 9 – 5 rat race and enjoy the work as a freelancer.
If you ask any expert freelancer, then they will tell you to work on your portfolio before applying to any freelancer sites. When you submit your proposals to any clients, then you have to show the portfolio to get your first gig quickly. Suppose you are confused on how to start freelancing in India. In that case, this article might help you to get the best freelancing sites in India.
Why become a freelancer in India?
We all know the current scenario of India. India has the highest number of unemployment rate in history due to demonetization and other factors. Due to which many talented employees are losing their jobs. So they are searching top freelancing sites to generate an active source of income rather than a corporate job.
You can work from anywhere, anytime and anyplace if you become a freelancer. You can decide your hourly rate according to your expertise in the field of working and can work remotely. The perks of becoming a freelancer also make this profession the number one option of any individual to invest their time and money to get an extra source of income.
Some advantages of freelancing:
Flexible work hours
Independent work life
More income
Work from home business
Client selection
How to start freelancing in India
There are many freelancing sites in India. Some of them work only in India and some works internationally. You can get projects from all over the world if you are confident enough to work with the foreign client's. If you want to work with local clients, then you can choose local websites then upgrade yourself to use international sites.
Firstly, you have to create a portfolio of your work which you have to show to your clients.
Portfolio can be as simple as Behance website page or a simple personal website.
Prepare a pitching proposal with formal and influencing communication sentences and words.
Work on your profile graphics to attract more clients.
Always respond immediately to get a better response time.
You would like: How to Earn Money from Freelancer in India 2020
Here is the list of the best freelancing sites in India for beginners:
Fiverr
Fiverr is one of the best freelancing sites in India. If you are a beginner, then you can make gigs on any work you want like virtual assistance jobs, data entry jobs, Excel sorting tasks, and many more. There are many remote jobs for professionals like web designing, app development and digital marketing services.
You don't have to go through any tests or screening process. The only thing which matters on Fiverr is how you can convince the clients with your proposals. You can directly research from search bar regarding the competition in your field so that you can get the better idea in designing the profile page and writing the profile description.
Commission by Fiverr: 20%
Jobs in Fiverr:
Graphics and Design
Digital Marketing
Video and Animation
Writing and Translation
Music and Audio
Business
Lifestyle
Industries
Programming and Tech
Freelancer
Freelancer is the oldest freelancing website which is popular in almost all countries. It is the best platform if you want to get micro jobs like Data entry, Article writing, Logo designing or Virtual assistance. This platform is trusted by many companies which hire users for their MNC projects.
When you hire a freelance, the payment is secured by the site, and if you are delighted with the work then only you can release their payment. Due to this feature, freelancer is the most secured website which you can trust for your projects and jobs.
Commission by Freelance: 10%
Jobs in Freelancer: It has over 1300 different categories to work. Some of the most popular once are
Website development
Graphics design
Logo design
Marketing
Writing
Mobile app
Truelancer
Truelancer is another best choice of Indian freelancing websites. With over 500 thousands plus projects and over one million freelancers, it is the most trusted freelancing website for thousands of small business and entrepreneurs. If you want to start a contest for your project and then select the best freelancer, you can do it on Truelancer.
Commission by Truelance: 8% – 10% (varies according to their membership plans).
Jobs in Freelancer:
Skilled Developers
Designers and creatives
Bloggers and writers
SEO experts
Sales and marketing
Mobile apps
Youth4work
Youth4work is best freelancing sites in India for employers rather than employees. It's very hard for an employer to know the skillset of the freelancers they are hiring from just the proposal and rating because there are many fake reviews in many freelancing sites.
To overcome this problem, Youth4work conducts tests and screening process. The results are visible on the freelancer's profile which makes it very easy to sort list skilled freelancer.
Commission by Youth4work: 0%
WorknHire
WorknHire is a well known freelancing websites India. You can post your job requirement for free. Freelancer has to search for the category they want to work. Then they can apply to the list of jobs available on those categories. You can read the description to get a partial understanding of the projects. This website is mostly used by new business and freelancer because of the low hiring cost.
Commission by WorknHire: 5%
Jobs in WorknHire:
PHP Programmers
Java Developers
iPhone Developers
Game Developers
Content Writers
Customer Service & Support
Social Media Optimization (SMO)
Upwork
Upwork doesn't need any introduction. With over 12 million freelancer and 3 million clients, it has the largest user database in all freelancing marketplace industry. You can find almost any job in Upwork. But getting a freelancer account in this website is not that easy. You should have expertise in the fields which Upwork required.
If you apply in Upwork for easy jobs like virtual assistance, data entry jobs, excel sorting jobs. The support team will disapprove your account. The reason is upworks has too many freelancers working in those fields, so they don't approve new accounts.
If you are a beginner, then you have to work very hard to get clients in Upwork. But once you built trust and reputation, then you will get more clients as compared to other best freelancing sites in India.
Commission by Upwork: 20% (commission is the highest in Upwork until you become an expert freelancer. )
Jobs in Upwork:
Web development
Mobile development
Design
Writing
Admin support
Customer services
Marketing
Accounting
PeoplePerHour
As the name suggests, PeoplePerHour is one of the top freelancing sites in India which provides projects which pays their freelancers on an hourly basis. To keep the right track of the hour and avoid dispute between clients and freelancers, they use a feature called workstream. It records all the workdone and the time taken to complete that work. Peopleperhour is a trusted and official website whose clients names include big MNCs like Forbes and BBC.
Commission by PeoplePerHour: 20% (on first 250 pounds)
Jobs in PeoplePerHour:
Speech Writers
Elixir Developers
Video Producers
Fashion Photographers
Investment Managers
Auditing Experts
Bookkeepers
Instagram Ads Managers
Guru
Guru was founded in 1998. It is one of the oldest freelancer website in India as well as in the USA. Over 3 million freelancers trust this website. Like most of the top freelancing sites in India, we can post a job free of cost in Guru.
You can make a free account on this website as a freelancer. When you make the account, this website gives you some credit which is used when you want to bid on some projects. If you're going to offer on many prospects, then you have to take the premium membership plan.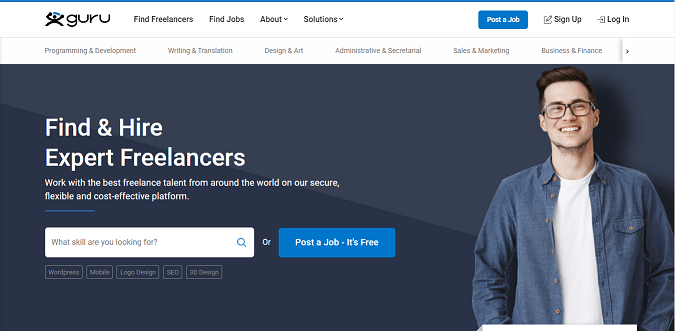 There is low competition in some micro-projects like virtual assistance, SEO services, Photography and animation. The reason is this website is not well known in other countries accept India and USA. Features like easy interface, secured payment system, various payment option and good rating option make Guru the best freelance websites for beginners in India.
Commission by Guru: 5 – 9% (Depending upon the membership)
Jobs in Guru:
Programming & Development
Writing & Translation
Design & Art
Administrative & Secretarial
Sales & Marketing
Business & Finance
Engineering & Architecture
Legal
99Designs
If you are in the field of designs like web design, app design, graphics design, and many more, then 99Designs is just for you. You can test your skills against all other designers who bid with you on the project because this website doesn't have a bidding system. You have to participate in the content, and you will be paid if your design is selected.
Don't worry, and if your design is selected, then you are paid pretty well as compare to other top freelancing sites in India. Some of the well-known clients of 99Designs are TechCrunch, Forbes, Entrepreneur, and NYT.
OnContract
As a beginner, when you make an account as a freelancer in top freelancing sites in India. You have to work very hard to get your first project. In some website, there is no feature of having a contract with the employer. What if the employer leaves the platform and doesn't pay you the decided amount.
OnContract solves this problem by making a legal contract between the freelancer and the employer. As a beginner, you should create an account on this website because OnContract is free for professionals and charge a subscription fee from agencies.
Outsourcely
Most of the top freelancing sites in India provide gigs which last from 1 day to 3 years. But what if you want to work remotely for a company and get hired. Outsourcely offers part-time as well as full-time remote location gigs and jobs in every industry like writing, development, designing and digital marketing.
This website doesn't take any commission from your payments made by your clients. Due to all these perks, I recommend to try Outsourcely and then decide which platform to choose.
Designhill
Designhill is the uber for designer gigs and jobs. This website is purely focused on designers and have the most significant number of client database which you can connect for free of cost. You can make the account for free and can save your templates and design in your store which is automatically created by Designhill.
The features of designhill are same as the other top freelancing sites in India like good rating system, secured payment wallet and user-friendly web interface.
Top freelancing sites in India you can try:
If you still can't able to choose the platform to start your freelancing journey, then below are some more freelancing websites which you can explore.
Flexjobs
Broxer
RockerStop
Kolabtree
Working Nomads
Behance
How much do freelancers earn in India?
According to moneycontrol.com, they earn an average of 20 lakh per annum. But as a beginner, when you make an account in the top freelancing sites in India. You will initially earn up to 2 lakh per annum. Your annual income depends upon your expertise and the platform you are using.
Is freelancing legal in India?
Yes, freelancing is legal in India if you are not working in any company. As an employee, it is illegal in some companies to work as a freelancer because most companies don't want their employees to share the details of their project to anyone online. It is against their work agreement and contracts and once found guilty. They will restrict you immediately. So if you are working as a freelancer, never tell your coworkers or do any freelancing work in the office. It can do more harm than good.
Conclusion:
Freelancing is the best part-time or full-time career option. You can learn how projects are managed in MNCs and can learn many things while working on live projects. But before signing in any freelancing website, research about that website whether the platform provides trusty and reliable clients or fake employers. Here in this article, I have made a list of top freelancing sites in India which will help you to decide the freelancing platform as a beginner.