Coconut Milk Business with Low Investment
What is Coconut Milk?
Coconut milk business is the can selling of coconut milk. Coconut milk is the white liquid that comes from grating meat of a brown coconut. It should not be confused with coconut water. The colour and rich taste of coconut milk are due to the high oil content. Most of the fat is saturated fat. Coconut milk is a very popular food ingredient used in India, Indonesia, Malaysia. So Coconut milk business is best business if you want to capture the local as well as International market.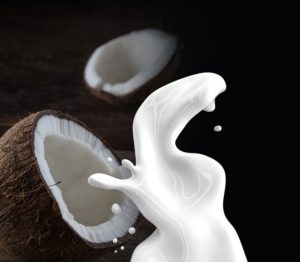 The market of coconut milk business in India?
The coconut milk market is increasing due to the numerous health benefits from the intake of coconut milk. Coconut milk improves the human immune system and helps reduce critical illnesses. Lauric acid, which is found in coconut milk, is effectively absorbed by the body and used by it for energy. This is one of the major factors in the growth of the coconut milk market.
Fatty acids help reduce cholesterol levels, improve blood pressure, and control strokes and heart attacks. The increasing popularity of Asian cuisine around the globe is also likely to create more opportunities in the coconut milk market.
Competition in coconut milk business.
The major players in the coconut milk market are Goya Foods, Pureharvest, WhiteWave Foods, McCormick, and Theppadungporn Coconut Co. Ltd. Some of the other global manufacturers in the coconut milk market are Edward & Sons, Chi, Ducoco, iTi Tropicals, Thai Agri Foods, Turtle Mountain, and Pacific Foods.
How to do coconut milk business in India?
Production
Traditionally coconut milk is acquired through grating the coconut flesh, and then mix it with a small amount of water to dissolve the coconut's whitish fatty content.
The grating process could be done in the traditional manual way or using a grating machine. Several grades of coconut milk exist: from thick at 20-22% fat to thin at 5-7% fat level.
Thick milk can be prepared by directly squeezing grated coconut meat through cheesecloth. The squeezed coconut meat is then soaked in warm water and squeezed a second or third time for thin coconut milk.
Thick milk is mainly used to make desserts as well as rich and dry sauces. Thin milk is used for soups and general cooking.
This distinction is usually not made in Western nations since fresh coconut milk is rare, and most consumers buy coconut milk in cans.
Coconut water is the watery liquid that usually comes from the young, still immature green coconut, although mature coconuts also have coconut water. Often the still jelly-like coconut meat is also added to make a tropic drink.
Coconut milk can be made at home by processing grated coconut with hot water or milk, which extracts the oil and aromatic compounds. It was then a fat content of 17-24% depending on the fat level of the coconut meat and the quantity of added water. When refrigerated and left to set, coconut cream will rise to the top and separate out from the milk. To avoid this in commercial sold coconut milk, an emulsifier(s) and a stabiliser(s) have to be used.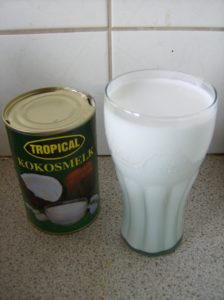 How to do business of canned coconut milk?
Manufacturers of canned coconut milk typically combine thin and thick milk, with the addition of water as a filler.
Depending on the brand and age of the milk itself, a thicker, more paste-like consistency floats to the top of the can and is sometimes separated and used in recipes that require coconut cream rather than coconut milk. Shaking the can prior to opening will even it out to a creamy thickness.
Some brands sold in Western countries add thickening agents and/or emulsifiers to prevent the milk from separating inside the can, since the separation tends to be misinterpreted as an indicator of spoilage by people unfamiliar with coconut milk.
Once opened, cans of coconut milk must be refrigerated and are usually only good for a few days. If not, the milk can sour and spoil easily.
In food
Fresh coconut milk has a consistency and mildly sweet taste similar to that of cow's milk, and if properly prepared, should have little or no coconut odour. It may be consumed raw by itself, or used as a milk substitute in tea, coffee, or baking by vegans or people allergic to animal milk. It can also be mixed with fruit to make a yoghurt substitute.
In drink
There is a widely popular iced drink called cendol, where chilled coconut milk will be added with green jellies made of rice flour and sweetened with liquid thick palm sugar. Coconut milk is often used in traditional hot drinks, such as bandrek and bajigur from West Java, Indonesia.
In southern China and Taiwan, sweetened "thin" coconut milk is served on its own as a drink during spring and summer. It is made by adding sugar and evaporated or fresh milk during the process of preparing the coconut milk. Another Chinese drink is coconut milk diluted with water, then mixed with fresh or evaporated milk in a 1:1 ratio and a spoon of condensed milk or sugar for each cup. They are served chilled.
How to make coconut milk beverages?
Banana, nutella, and coconut yogurt shake with Chai spices
Ingredients
2 frozen bananas, peeled and sliced
1 container vanilla coconut milk yoghurt
1/4 cup Nutella
2/3 cup canned unsweetened coconut milk
1/4 teaspoon ground cinnamon
1/4 teaspoon ground cardamom
1/4 teaspoon ground ginger
1/4 teaspoon ground clove
Coconut flakes for garnish (optional)
Procedures
Combine frozen bananas, yogurt, nutella, coconut milk, cinnamon, cardamom, ginger, and clove in a blender and blend on high until smooth. Serve garnished with coconut flakes if desired.
Market overview
Packaged coconut water is turning costlier ahead of summer with a sharp rise in coconut prices this season. Bottlers are expecting a 20-25% rise in the demand for coconut water because a harsh summer has been forecast. "We are planning to raise the price by 5% as the prices of tender coconuts have doubled," said CM Kamraj, MD of Sakthi Coconut Products. The Pollachi-based company sells tender coconut water in cans under the brand Tender Coco.