Start a Business of Air Pollution Control Equipment
What is Air Pollution?
Air pollution is the introduction of particulates, biological molecules, or other harmful materials into the Earth's atmosphere, possibly causing disease, death to humans, damage to other living organisms such as food crops, or natural or built environment.
The atmosphere is a complex natural gaseous system that is essential to support life on planet Earth. Stratospheric ozone depletion due to air pollution recognizes as a threat to human health as well as to the Earth's ecosystems.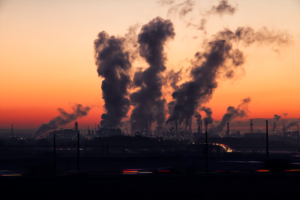 Health Effects
1. Air pollution is a significant risk factor for some health conditions including respiratory infections, heart disease, COPD, stroke and lung cancer. The health effects caused by air pollution may include difficulty in breathing, wheezing, coughing, asthma and worsening of existing respiratory and cardiac conditions.
2. These effects can result in increased medication use, increased doctor or emergency room visits, more hospital admissions, and premature death. The human health effects of poor air quality are far reaching, but principally affect the body's respiratory system and the cardiovascular system.
3. The most common sources of air pollution include particulates, ozone, nitrogen dioxide, and sulfur dioxide. Children aged less than five years that live in developing countries are the most vulnerable population regarding total deaths attributable to indoor and outdoor air pollution.
Need in the market
Estimation of some 7 million premature deaths attributed to air pollution. India has the highest death rate due to air pollution. India also has more deaths from asthma than any other nation according to the World Health Organisation.
In December 2013 air pollution was estimated to kill 500,000 people in China each year. There is a correlation between pneumonia related deaths and air pollution from motor vehicles.
Air pollution is estimated to reduce life expectancy by almost nine months across the European Union. Causes of deaths include strokes, heart disease, COPD, lung cancer, and lung infections.
Diesel exhaust (DE) is a major contributor to combustion-derived particulate matter air pollution. In several human experimental studies, using a well-validated exposure chamber setup, DE has been linked to acute vascular dysfunction and increased thrombus formation.
Business Idea:
There are various air pollution control technologies and land-use planning strategies available to reduce air pollution. At its most basic level, land-use planning is likely to involve zoning and transport infrastructure planning. In most developed countries, land-use planning is an important part of social policy, ensuring that land is used efficiently for the benefit of the wider economy and population, as well as to protect the environment.
New Research On Titanium Dioxide:
Titanium dioxide can reduce air pollution. Ultraviolet light will release free electrons from the material, thereby creating free radicals, which break up VOCs and NOx gases. One form is super-hydrophilic.
In 2014, Prof. Tony Ryan and Prof. Simon Armitage of University of Sheffield prepared a 10 meter by 20 meter-sized poster coated with tiny, pollution-eating nanoparticles of titanium dioxide. Placed in a building, this giant poster can absorb the toxic emission from around 20 cars each day.
Control devices
The following items are commonly used as pollution control devices in industry and transportation. They can either destroy contaminants or remove them from an exhaust stream before it is emitted into the atmosphere.
Particulate control
Mechanical collectors (dust cyclones, multi cyclones)
Electrostatic precipitators An electrostatic precipitator (ESP), or electrostatic air cleaner is a particulate collection device that removes particles from a flowing gas (such as air), using the force of an induced electrostatic charge. Electrostatic precipitators are highly efficient filtration devices that minimally impede the flow of gases through the instrument, and can easily remove fine particulates such as dust and smoke from the air stream.
Baghouses Designed to handle heavy dust loads, a dust collector consists of a blower, dust filter, a filter-cleaning system, and a dust receptacle or dust removal system (distinguished from air cleaners which utilize disposable filters to remove the dust).
The particulate scrubbers Wet scrubber is a form of pollution control technology. The term describes a variety of devices that use pollutants from a furnace flue gas or other gas streams. In a wet scrubber, the polluted gas stream is brought into contact with the scrubbing liquid, by spraying it with the fluid, by forcing it through a pool of liquid, or by some other communication method, to remove the pollutants.
Tools Used
Scrubber
Baffle spray scrubber
Cyclonic spray scrubber
Ejector venturi scrubber
Mechanically aided scrubber
Spray tower
Wet scrubber
NOx control
Low NOx burners
Selective catalytic reduction (SCR)
Selective non-catalytic reduction(SNCR)
NOx scrubbers
Exhaust gas recirculation
Catalytic converter (also for VOC control)
VOC abatement
Adsorption systems, such as activated carbon
Flares
Thermal oxidizers
Catalytic converters
Biofilters
Absorption (scrubbing)
Cryogenic condensers
Vapour recovery systems
Acid Gas/SO2 control
Wet scrubbers
Dry scrubbers
Flue-gas desulfurization
Mercury control
Sorbent Injection Technology
Electro-Catalytic Oxidation (ECO)
K-Fuel
Dioxin and furan control
Miscellaneous associated equipment
Source capturing systems
Continuous emissions monitoring systems (CEMS)