Toys Business Ideas and Manufacturing Plan – 2023(Updated)
When we hear this word toy, all the pleasant childhood memories with toys flashback in our mind. You must be eagerly waiting for your birthdays, Diwali and Christmas to get your favourite toy. All of us wish to be the owner of the toys making company in our childhood. Toys business ideas are one of the most researched ideas for starting a business.
All people love to buy toys in childhood, I used to do it, and I'm sure you have too.
When we were young, we used to buy toys from the mela (Indian fair). Back then, most of the toys were made of wood. But today, plastic toys have taken their place.
Whatever it is, toys are one of the most loved things for children. Wherever someone sees a new toy, he makes a demand for it: "I just want this." Toy companies and manufacturers are making millions of dollars by becoming a part in this demand and supply.
Toys have been used in India since ancient times. Toys made of clay were also found in the excavation of the Indus civilization, and today the Indian toy industry is worth $20.23 billion and its growth is happening at a rate of 12%.
If you want to start your own business in this highly lucrative industry, then this article will give you the complete knowledge on how to start toys manufacturing business idea and steps for toy shop business plan.
The market of toys business ideas
We all know, toys are not going from the trend. Every day, new toys are made for people of all age groups. You can see toys for small kids and remote control toys for teenagers. As the population is increasing, the demand for toys and dolls are also rising among boys and girls. You can easily set up your toys shop and earn huge profits if you don't have a toys shop in your locality.
Steps for toys shop business plan or How to open toys shop?
The market for this business is very high. If you have a good plan, you can easily beat your local competition in your area. You have to decide the location, the categories of toys, brand name, investment, marketing cost, marketing methods and the ROI from your toys business ideas.
If you are planning to start your toys shop business, then some of the steps you need to plan and implement to get the fruitful results are:
Research and competition
Before planning any steps, you have to research your business idea. Make a note of the following points
How many are toys shops present in your area?
Which toys are trending in your area?
Is there any toys shop near the hospital or nearby?
How your competitors are marketing to attract customer?
When you have the proper research plan and answers to the above question, you will get a clear idea to start your toys business ideas. If you are satisfied with the answers, you can move on to the second step.
Investment
The most important factor for setting your toys shop business is an investment. If you have a low budget, then you have to be very selective in your materials. Now, from the above research, you know which toys are treading in your area. Get the wholesale quotation from the market to know the approximate investment need in your first toys stock.
You would like: Best Small Business Ideas in India with Low Investment
Location
For any successful business, location plays an essential part in its process. If you want to start your toys business ideas, then you can look for shops in the area where people travel a lot. One of the recommended places is near children hospitals. Because in hospitals, many children are admitted, and they need some toys to distract from their pain. Some of the sites you can set up your store are:
Train Station
Bus stops
Near Cafe
Birthday lawns
Brand name for toy shop business plan in India
When you have the required investment and location for toys business ideas shop. Its time to get your a shop a cute name. The brand name should be easy to remember so that you can get some mouth to mouth publicity free of cost. If you want to search proper names for your business, then a business name generator tool can help you with that for free. Remember, don't copy other names from your competitors or you have to face legal issues.
Registration
You have to register your brand name to get the benefits of all the government schemes for your store. Your competitor can't copy your brand name if it is registered. More benefits include getting your GST number to get bulk wholesale orders on loan. It means you can get the toys and pay after two to three months duration.
Furniture and Lighting
You have to think about the furniture to set up all your toys properly. There are many types of rack and shelves available in the market. You have to choose or make racks for small toys, big toys differently. Your toys business ideas need the proper lighting in every corner of your store. Other furniture and equipment include:
Chairs and tables
Glass racks
Computer for billing
Printers
Billing desk and locker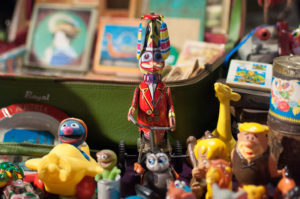 Marketing methods of toys making business:
You can go for online and offline marketing. Inviting families for the opening ceremony will be a great idea to start your toys business ideas store. You can print pamphlet and distribute it with the local newspaper. Online methods of marketing include using social media platforms like Facebook, Instagram and TikTok. One of the best practices is making the video of the toy and uploading in all the platforms.
Making your website and selling on Amazon can be your turning point for your business. Instead of making the website from others, you can learn about creating sites and managing it in your free time in the store. Building an Amazon account and learning to manage the order is very easy. You can quickly learn that from the YouTube videos.
For the quick sale, you can sell your toys with a combo offer to get all the attention of young generation. You can target parents using Facebook ads and share attractive videos of your toys and how it can be used in patenting. Advertise the material from which the toys are made and make sure to use material which is safe for kids.
How much money required to open a toy shop?
The total investment required for toys business ideas may vary from the location because of the location and furniture cost. If you are starting your toys store business ideas in rural areas, then you will set up your shop in less than five lakhs. The investment cost can increase when you want to start this business in urban areas like Mumbai city. The total cost can be 10 to 15 lakhs. Make sure you have the appropriate fund to survive for at least three months without any profit because that's the rule of starting any new business.
How to Start Toys Manufacturing Business Plan in India?
Raw Materials
So first of all, let's talk about raw materials, because for making toys, the first thing that you need are the raw materials, which are food-grade AVS plastic granules, pvc granules, additives, paint, and packaging materials.
If you can find raw material suppliers in your city or state, then that is a great thing. Otherwise, you can also search online. You will get most of the information on IndiaMart.com.
During our search, we found many other suppliers, including Poly Plast, Adinath Polymers, Disha Technologies, and Green Polymers which have the option of raw material samples. You can reach them or you have to do the research for cheap raw materials to start a toy manufacturing business.
Machines and Investment
Your investment will depend on the toy-making machine itself. The prices of the machines are fixed on the basis of their production capacity. To set up a complete toy manufacturing business, you need a mixer, an induction module machine, a blow moulding machine, a CNC painting machine, an ultrasonic welding machine, a printing machine, a paint gun, and a packaging machine.
If you want to start a toy manufacturing business on a small scale, it will cost 25 to 30 lakhs, and on a large scale, it will cost 40 to 45 lakhs.
You can see the models of toy manufacturing machines on online platforms like IndiaMART.com and AliBaba.
Factory Space Requirements
Now let's talk about the space for the factory. For a large-scale toy manufacturing business, you will need at least 4000 to 5000 square feet of space to keep raw materials, machine setups, printing areas, and testing areas.
If you have your own land, you can save money on rent. Otherwise, you will have to take a place on rent, due to which the cost will increase slightly.
Electricity
Raw materials are melted to make toys. They must be cast in molds.All the machines, including printing and packaging machines, require a lot of electricity. That's why you need at least a 40 to 45 KW electricity connection.
Manpower or Workers
Talking about manpower or workers, you will need at least seven to eight workers, including some skilled people, to run the machine, to paint, to pack the toys, and to operate the machines. If you can find skilled operators, that's great. Otherwise, from whomever you are buying the machine, you can also provide training to your employees.
Also, when the toy factory starts, you can give employment to women at the local level as well. Apart from this, for the loading and unloading of toys, you will have to keep a driver for supplying goods in the market if you have your own vehicle.
Profit margin or Is toy business profitable?
Making toys has always been profitable, as market demand will never end. If you are making trending toys, then according to the market rate, you will easily get a profit margin of 20 to 30%, but for this, you will have to do market research, branding, and marketing because every type of business needs branding and marketing.
How to sell toys?
You can sell toys in the market using both online and offline mediums, and if you talk about online, you can sell your toys on platforms like Amazon, Flipkart, and Meesho. Offline, you can sell and supply goods to local markets, wholesale distributors, and shopping malls.
How do you do branding and marketing?
You can advertise on social media, TV, and in newspapers for branding purposes. If you hire one or two salespeople, this will also increase your sales.
Exports
If you want to export to the international market, then you can export to South Asia, the Middle East, Europe, or Africa. In the financial year 2021–2022, India exported toys, games, and sports equipment worth Rs 26.01 billion. This figure shows that India's toy manufacturing industries are growing rapidly.
Company Registration
To start manufacturing and exporting toys, first of all, you should register a private limited company. The name of the company should not match that of any other company, and your work should be known by the name of the company.
Apart from this, you should also get other paperwork done, like a trade licence, GST registration, fire safety, and an NOC. Make sure your factory has a fire extinguisher because there is a high risk of fire in plastic materials.
If you do not have the required capital to start your business, you can also apply for a business loan. While increasing your business, if you start exporting toys, you will have to obtain an import-export code from the Directorate General of Foreign Trade, the Ministry of Commerce and Industry, and the Government of India.
Government support in the toy manufacturing business
Anyway, most of the cheap toys in India are imported from China, but now to take India forward in toy manufacturing, the Central Government has decided to form a manufacturing cluster of toys, which will cost 2,300 crores and be made in Madhya Pradesh, Uttar Pradesh, Rajasthan, Karnataka, and Tamil Nadu.
With the formation of these clusters, the work of making wood, lacquer, palm leaves, bamboo, and cloth toys will get a boost in India. This is positive news for the Indian toy industry.
Training
If you want to study toy manufacturing and design, then it is possible. If we look at the varieties of toys available in the market, soft toys, action hero figures, art and craft, building sites, dolls, games and puzzles, electronics, outdoor games, and sports toys are available.
If you want to work in this industry, you must have good skills in creativity and design. So, first of all, let's talk about the skills. creativity and uniqueness, sense of fun, tools, techniques for sewing and decoration, fabric knowledge, module making and manufacturing, research and innovative skills, and illustration in drawing skills.
How to make a career in toys manufacturing and designing industries?
If you are a 12th-grade pass from any stream, then you can study toy manufacturing. There are many types of entrance exams for this. like the NID entrance exam, the All India entrance examination for design, the common entrance exam for design, etc.
After passing the entrance exam, you can apply for studies anywhere. After passing the entrance exam, you can study toy design at institutes like the National Institute of Fashion Technology, the National Institute of Design, Ahmedabad, the IIT Bombay National Institute of Fashion Technology, Mumbai, Amity University Noida, and the National Institute of Fashion Technology, Bangalore.
After studying, you can do the jobs of product designer, training manager, and marketing manager or coordinator.
What is the total investment needed for toys shop business?
The investment depend upon your location. If you want to setup your business in small city then you need around Rs 4 -5 lakh and for big city you need around Rs 10 – 15 lakh.
How can I start my own toy business?
Here are the main point which you have to keep in mind while starting your own toy business-
Research and competition
Location
Brand Name
Licenses
Investment
Government schemes
Profit Margin.
What is the profit margin in the toy industry?
If you are making trending toys, then according to the market rate, you will easily get a profit margin of 20 to 30%
What is the scope of toy industry in India?
Conclusion
Starting your toys business ideas needs a lot of time to research. You have to be very careful in selecting the first batch of toys for your shop. Location and furniture are the two factors which can increase or decrease your investment cost. You have to use new methods of marketing given in this article to run the toys shop successfully. Once you are stable in your business, you can go to another shop or can sell your franchise to maximize your profits. I hope this article guide you with all the necessary steps to build a successful toys business ideas.