How to Earn Money With Sponsored Posts on Your Blog?
Do you own a website or blog? Or planning to create a website so as to start a passive income source. Then, you can earn money with sponsored posts by publishing articles on your website.
There are many ways to earn money from your blog, like monetising with display ads or affiliate marketing. But many people find it difficult to earn in their starting phase and when they don't see any revenue after months of hard work, some of them quit and search for another passive income source.
If you want to learn how to make money with sponsored posts on your website, then this article is for you. In this article, we will discuss sponsored blog post opportunities and sponsored post websites from which you directly get orders for your website.
So let's get started.
Why Find Sponsored Blog Post Opportunities?
Nowadays, people want to start a new source of income and the best way is to create a website, write articles and monetize it with display ads. The best display ads network which everyone trusts is Google Adsense. But as you know, getting a Google Adsense account approval for your website comes with many challenges.
If you succeed in getting the approval, then the next challenge is to bring organic traffic to your website. Many new bloggers find it difficult to bring traffic to their website and if they succeed in doing so, the revenue from just the display ads is less if your traffic is coming from low CPC countries. In the early phase of blogging, many bloggers lose their will to write articles when they don't see any income from their website.
But for beginners, one of the best way to earn money using your website is through sponsored opportunities and posts. So now the main question arise is how do I get sponsored post.
How Do I Get Sponsored Post?
The most common question asked by new bloggers are how do I get sponsored post? and what are the requirements? For a new website, you have to build a high authority by making some quality backlinks which will increase your website's DA and DR. The simplest way to do this is by making web 2.0, social media and article backlinks.
Now, the question arise is how to find such websites?
There are many ways to find website where you can get backlinks to your website.
You can use some free tools like ubersuggest, do competitive analysis or search google about article submission sites, social bookmarking sites, web 2.0 sites, etc. and start making backlinks.
Make sure to have the spam score less than 5%. You can measure a spam score using a free MOZ Chrome extension.
After making a well established website with DA more than 40 and 1000+ traffic, then you will get a lot of emails regarding price of sponsored post. Still, if you are not getting any offers, then we recommend to join the sponsored blog post opportunities websites which we will discuss below.
Sponsored Post Websites
Sponsored post websites are sites which provides guest post with their client link inserted naturally to you so that you can post the article on your website and earn money. Some of the famous and trusted sponsored blog post opportunities sites which we personally use are as follows-
Adsy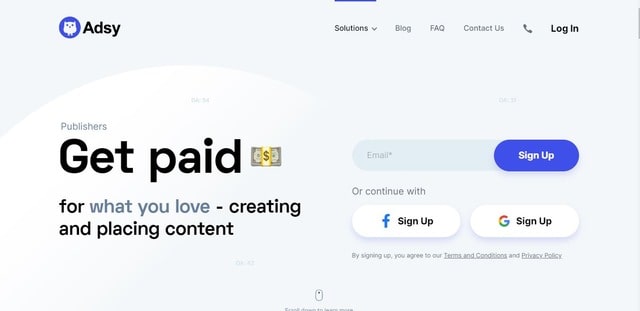 One of the best website from which you can earn money with sponsored posts on your blog is Adsy. On this site, you will get lot of offers which you can apply with you website. As you register on Adsy, you need to add your website and wait till it is verified by the verification team of adsy.
As per my experience, they will approve your site if it has some organic traffic and good backlinks with DA more than 20.
But remember, you have to set the minimum price of guest post on your site for low DA, DR sites. Generally, the price of guest post on new site is from five to ten dollars. This website credits the balance in your Adsy account as soon as you share the live link with them. Once you reached the threshold of 60$ you can withdraw the amount in your Paypal account.
We are using this platform from the last two years and not faced any issues till now in payments and orders.
Here are some of the tips to get more offers from Adsy. Follow this steps and you can easily earn 1000$+ from Adsy.
Bid low price for guest post to get competitive advantage.
Apply for offers more often.
If you don't get any offer after applying for more than 30, then you must lower your price and work on website layout and domain authority.
Increase your website traffic and DA constantly.
Never decline offers initially.
ValuedVoice
Another sponsored blog post opportunities site where you can get many guest post offers for your website. Unlike Adsy, you don't have to apply or bid for offers on ValuedVoice. They provide you the offer as per your website category, traffic stats and domain authority. The signup process of this site is very simple and you can add your website within minutes.
There is no approval process, but you need to add all the details of your website correctly and link your google analytics account associated with the website to get more orders from ValuedVoice. If you have a well established website, then you can upgrade your plan to raise your influencer score and get more orders.
Our website has earned more than 2000$+ alone from this website and never faced any technical and payment issues. Try this website now.
Accessily
Next to the list of sponsored post website is Accessily. This website is a marketplace for both buyers and sellers. Many publishers and companies are registered on this platform. You can add your website in this marketplace and get orders from the clients through this platform. To get more orders, add all the details of your websites like categories, sample post and requirements.
If you have a high-quality website with some organic traffic, then you can get many orders from this site. The value of the guest post should not be very low or high, or the number of orders can decrease. The important point which you need to know while deciding the sponsored post price is that this platform charge 40% of the publishing fee from your guest post amount for marketing and advertisements.
Intellifluence
Along with website if you have a decent amount of followers on your social media accounts then this platform is best for you. As per your website's metric, they will provide offers which can apply or decline. The joining is free and don't require any additional verification for your website like other platforms.
You can get two to three offers per month for your high authority website from this sponsored blog post opportunities websites and the only catch is to apply for the new campaign which you get on your emails every time. The offer ranges from 45$ to 100$ as per your domain metrics and traffic.
Click here to join Intellifluence
There are many websites but the above four are the most trusted ones which we personally use to make 1000+ dollar per month. Signup now and grab the offers.
FAQs
How to earn money from sponsored posts?
To earn money from sponsored posts, you need a website with good domain metrics like DA, DR and traffic. The best way is to join different sponsored post opportunity websites and get regular offers. Another way is to approach different resellers on Facebook groups and freelancing sites and offer your website. Some of the best websites to earn from guest post in provided in this article.
Top Sponsored post websites
The most trusted and well-known sponsored post website are Valuedvoice, Adsy and Accessily. All the links to the site are given in this article.