Top Business Ideas for Housewives
There are many small business ideas for housewives that they can invest in and make monetary profits. So, suppose as a housewife, you are looking to start a business from home for the sake of financial independence. In that case, you can rely on our curated list of top 8 business ideas for housewives. Let's get started. 
Best Business Ideas for Housewives
Being a housewife is itself a job, however, without monetary benefits. Housewives earn in terms of love and respect. The one who can manage house expenses doesn't have to make much effort to understand and run a business. We have many successful women entrepreneurs and CEOs who prove that women are equally successful in leadership roles too.
Start your Home catering services
Many people live away from home and thrive for "Ma ke haath ka khana" or homemade meals. Further, many professionals look for lunchbox services to avoid eating outside. Targeting a small group of people for a start, you can make full use of your culinary skills, and start a home catering business. To add to this, you can also create a YouTube channel to further market your business. Make sure you keep the prices of the services upbeat with the market. Research and decide on the prices so that you can compete in the market.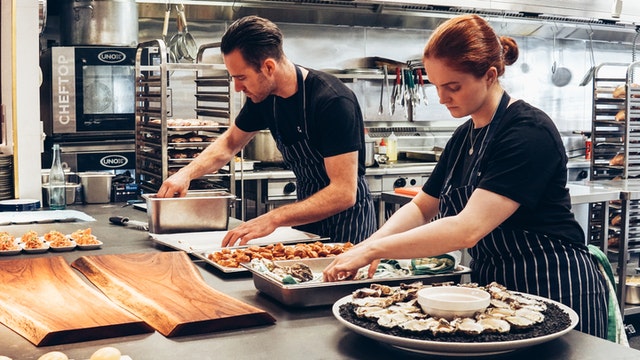 Become a freelance content creator 
If you have a knack for writing, then you qualify for starting your content provider services. Many businesses look for content creators to write blogs and articles for them. Check out websites like Freelancer, or join digital marketing groups on Facebook to find your initial clients. There is a vast scope for digital content creators today, and as the demand is high, and there are not many quality content writers, you can keep your stakes high. Never sell your content for too low prices. To start with, you can keep your expenses at 50 paise per word and then increase the prices with experience. 
Open a beauty parlour at home
Do you love dressing up and have a certification in beauty services hidden in the corner of your cupboard? It is time to wipe the dust off your valuable documents and start with your beauty parlour services at home. Even if you don't have a certification but have a passion for providing beauty services, you can join a 6-month course from a reputed institution and then start with your beauty parlour at home. After you have polished your skills, you can invest in the essential beauty products and start with your first few clients from your neighbouring houses. 
Bring out the artist within you and make gift baskets 
Buying gifts on festivals become way too expensive from popular gift shops like Archie's. The high prices can be too much for some people. This business idea opens opportunities for small businesses and maybe for you if you are a connoisseur of art and craft. You can make a variety of gifts ranging from handmade cards to jewellery and handmade soft toys. It all depends on how hard you push to make money out of your business. There are many occasions when a person looks for gifts, including birthdays, anniversaries, and festivities. So, there are ample opportunities to make money while sitting at home with your creative gift baskets. 
If you are a reader, become a Book Reviewer
Now, this might sound odd to many but let us tell you. Many people are writing books nowadays. And they can go to any extent to market their books. They partner with websites to publish their book reviews. So, the websites look for book reviewers. With the growing demand, excellent opportunities are waiting for you if you can devour a book and write a review. Since it is something new in the market; you can keep prices competitively high as well. We promise this field of business is growing and will get you a great return on investment. 
Start tuition or coaching classes 
This field of business will never go out of fashion. This is the best business ideas for housewives. Students will always look for tuition teachers, and hence you will always have a salary coming. However, there is high competition in this field as there are plenty of teachers who have a foothold in the market. There might not be many who provide digital or online tuition. So, if you loved certain subjects in your studying days, you can polish them more and start your online coaching classes. To begin with, you can apply at an online coaching centre, gain experience in teaching, and then go for your coaching classes. 
Bake sweets at home and sell
If you don't wish to sell the regular food you make, you can always start selling homemade sweets. Many women love baking chocolates, cakes, and other sweets. And this leads them to invest in their skills and learn more through YouTube videos or baking classes. If you have the art and the will to polish it further, why not go for it? Bake different varieties of cakes, chocolates, and sweets and sell them online. Market your venture via social media or through pamphlets. You can also start a YouTube channel side by side to bring the attention of more customers to your sweets. 
Learn digital marketing and become a digital marketer 
The world is going digital, and digital marketing is here to stay. Every industry requires digital marketing professionals now. It has a wide range of subjects and further a vast scope to earn money. You can join a digital marketing course online and get certified in it. After the certification, there will be ample of opportunities waiting for you. You can start with interning or working at various places and then create your own freelance digital marketing services. Bloggers and companies always look for digital marketers. If you know digital marketing, you can begin any business and market it professionally. So, the last one on our list is applicable for any business you start. 
Conclusion
When we talk of businesses, there can be n number of services and business ideas for housewives you can provide based on your skills . Broadly, those mentioned above are the ones we have our bets on in terms of making less investment and earning more. We wish you good luck in starting your business. You don't need wings to fly! Kudos!