Top 10 Sponsored Post Networks and Opportunities for Bloggers
Have you ever wonder, Are there any other ways to earn money online using your blog rather than advertising and affiliate marketing. In this article, we will tell you the top sponsored post networks and the paid guest posting sites from which you will get sponsored posts to publish on your site and get paid.
When you hear the word blogging, you imagine yourself writing an article, building backlinks, and getting traffic. But when you first try to write a blog and try to earn money through it, then you know that blogging is a real challenge.
But you may be wrong because there are many different ways to earn money online from blogging.
The most common methods are using ads networks like Google AdSense and media.net or using Affiliate marketing, but one of the many ways is by paid guest posting.
Yes, you heard it correctly. You can earn from publishing other's content and get paid, but that too if you have a well-established blog or website.
Note:- To get approved in all of the paid guest post platforms or opportunities, make sure to add every detail of your site on the platform and connect your Google Analytics if needed.
List of Sponsored Post Network and Paid Guest Post Sites for Bloggers
Any blogger can start their income using these paid post blogging networks. All these websites are tested and verified, and they really pay their bloggers and influencers. Here is the list of sponsored post networks.
Adsy (Personal Recommendation)
Adsy is one of the most popular platforms to get paid post opportunities for your website or blog. The signup to this site is free and has the largest marketplace of guest post opportunities for bloggers for all niches.
You can apply to any open offer once you submit your website. There are three types of services on this site like content placement, content creation, and placement(mini-post and long article).
Join Adsy publisher or blogger
If you want to apply for any offer, you can click on the view details tab, and you will get all the information of that offer like promoted website, price, etc. Select your website, price and click on make a bid. If your request gets approved, you have to complete the offer and submit the live link to get the payment.
---
Valuedvoice is my first choice and definitely one of the best platforms to earn money from sponsored post networks. It is the go-to platform for influencers that want to receive paid opportunities.
The signup process is very simple. You have to create an account and add all your high authoritative websites and social media to increase the chance of getting paid guest post opportunities from this site.
It provides free as well as paid plans. If you are really serious about making money through guest posts, then we recommend trying a 3$ plan for one month to get the results.
Click here if you are a blogger or influencer.
This platform also helps brands and businesses to find the best influencers and bloggers in their niche so that they can get many link-building services at their fingertips.
---
Icopify.co– New Guestpost Marketplace Platform
One of the cheapest guest post marketplace where you can buy and sell sponsor post from 5$ to 1000$.
---
Accessily is one of the leading sponsored post networks which provide a marketplace for advertisers and guest post opportunities for bloggers and publishers.
We recommend accessily because they spend quite a huge amount on their advertising and getting you more guest posts for your site. While selecting the rate of your sponsored guest post, please keep in mind that Accessily charges 40% of the commission on every successful order. Click here to join Accessily.
But if you have a high-quality website with some organic traffic, then you can get many orders from this site. The value of the guest post should not be very low or high, or the number of orders can decrease.
---
As the name suggests, this platform connects businesses with the target audience through different influencers and bloggers.
If you are an influencer, you can join Intellifluence for free and collaborate with brands by applying for offers in their marketplace, and you will also be eligible to receive pitches from brands.
If you have a very good reach on your social media accounts, then we recommend joining Intellifluence because there are many brands that are willing to work with you.
These platforms has social networks like Facebook, Twitter, Pinterest, etc. along with that they also support Amazon Reviews, Blogs, and Podcasts.
---
Flyout– One of the Best Sponsored Post Networks (Not working)
Flyout.io is the most trusted platform for sponsored guest post opportunities by all the publishers throughout the world. If you have a new website, then it may take some time to approve your site on this platform because of all the criteria, but what's the loss in trying once.
Some of the criteria your site has to follow are:
More than 10,000 organic traffic per month. (If you high-quality content, then traffic doesn't matter for approval)
Your website should have a good design and user experience with all the basic pages like About us, Contact Us, Terms, and Conditions, etc.
Some of the niches which are NOT allowed are APK, movies, download, gambling, Shayari, Lyrics, etc.
You can find the complete list on their official site. The approval process of Flyout is quite difficult, but the guest post rates on these sites are way more than other sponsored post networks.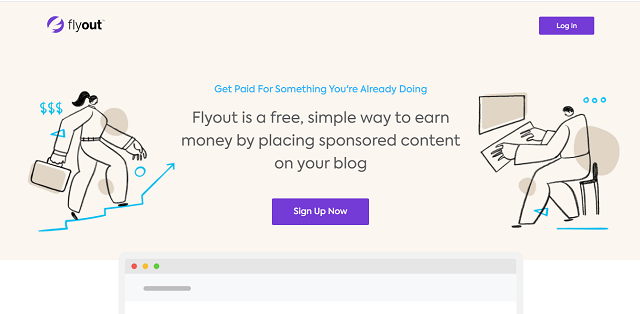 You can easily get 30$ to 40$ per post to publish on your website. Click here to join Flyout as a Publisher. To get some extra commission, you can also join the affiliate program of Flyout.
---
SeedingUp is an influencer marketplace for digital marketers. It is one of the oldest guest post networks since 2005, which is paying many publishers to publish sponsored content on their sites.
Many publishers remove the content and the link as soon as the payment is made to him. To tackle this situation, SeedingUp has come up with one of the unique payment methods. i.e., you will get 1/12th of the total payment every month and the complete payment after 12 months.
You can withdraw the money from the first month on SeedingUp. If you have a high-quality site with some international traffic, then your website will get approved in no time. Click here to join.
---
Blogmanagement.io is one of the best platforms for website owners who want to earn from their website by publishing high-quality content.
Many site owners try their best to increase their Domain authority and publish high-quality content to get more traffic to their site, which will increase their revenue through ads networks and get more offers for paid guest posting from sponsored post networks like blogmanagement.io.
---
GetBlogged is the blogger outreach and link building platform which unite brands and business with website owners so that bloggers can earn money from their blog.
If you have a blog of DA >5, then you can start using this platform and submit your proposal to the brands on the marketplace. You can find more offers if the niche of your site is dating, business, lifestyle, health, etc.
There are many filters on GetBlogged so that you can find the best opportunities and brands for your niche website. You can filter the assignment with DA, category, and link type.
---
Next to the list of the best sponsored post networks comes is AwesomeGrowth. This platform is same like Blogmanagement.io which provide a marketplace for business to choose the websites as per their niche and Bloggers get paid guest posts.
As a blogger, you have the complete authority to reject any content if it doesn't satisfy your requirement. One of the best features which AwesomeGrowth provides is the analytic dashboard after the approval of your sites which shows impressions and orders.
If you are getting more impressions for your blog and fewer orders, then it means you have to increase the stats of your website or decrease the price of the sponsored post to get orders.
---
Last but not least in the list of sponsored post networks is AspireIQ. If you have many followers on social networks, then this platform is one of the best sponsored post networks you can join.
You just need 10,000 followers on any of your social networks like Facebook, Tik Tok, Pinterest, etc., to connect and get approval on this site.
Some other sponsored post network or sites which provide paid post opportunities are
Blogsmeetbrand
SocialSpark
Linqia
Please save this post as we update the list of sites regularly.
Learn more:- How to Increase your website DA PA in two months using all the white hat way?
Learn more:- How to Earn Money from Freelancer in India 2021?
Why Sponsored Post Networks?
According to Backlinko, high authoritative backlinks from the relevant sites are the major factor that determines the rank of the page in all SERPs. If you have high-quality content and a good number of high authoritative sites linking to your site, this gives a good signal to Google, and your website can improve the rank on the first page of Google in no time.
This is the reason many business and affiliate marketers want backlinks from different sites in their niche to get the link juice so as to rank their products or services. Many people are ready to pay you some bucks to get the link to your site if you have some high authority in your domain.
There are two ways business approach admins of the sites to get the backlinks. One of the ways is directly contacting them through the contact form or email, and the second method is the approach to paid guest blogging sites or sponsored post networks to buy backlinks from relevant sites in bulk.
FAQs
How to Get Sponsored Blog Posts?
There are many platforms from which you can get sponsored blog posts for your website. First, you have to signup on all the above sites and then submit your website for approval. Once your website is approved, you can add the price of the sponsored post, and then you will get orders from paid guest posting websites.
Conclusion
In this article, we have told you the best sponsored post network and the guest post opportunities sites which can earn you money just by promoting and posting their content on your site. Let's have a quick recap on the paid guest posting sites, and sponsored post networks that we recommend are
Valuedvoice (My Favorite)
Blogmanagement.io
If you have doubts regarding the signup and the payment process, please comment down, and we will always be happy to help.